This form is only intended for general questions, partnership or interview requests.
To make an appointment
Please fill in the other form
Opening hours
Information without an appointment on Wednesday and Saturday from 11 a.m. to 7 p.m.
Tattoo sessions by appointment only.
Social networks
Follow all the news on social networks

Where to find us?
11 rue Venture – Marseille (13001)
The studio is located in the heart of Marseille in a pedestrian street in an upscale district of the city. You can make the most, before or after your session, of the city, on foot, as well as all the shops around the studio and the old port nearby.
How to get there?
Here are all the solutions and tips to find Karbone studio easily.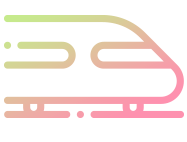 By train.
Marseille is very well served by train for all of France, the St-Charles station is 10 minutes by transport from the karbone studio or 15 minutes on foot.

Look up Ouigo trains they are much cheaper and for Parisians, they are now departing from Gare de Lyon or Marne -la-Vallée.
Trouver un train

By plane.
Karbone is less than 30 minutes away from the Marseille airport.
You'll be able to take an Uber, a taxi or even rent a car.
There is also a shuttle ensuring a daily and direct journey from the airport to the central Saint Charles bus station with departures every 15 to 20 minutes from 04:10 am to 11:30 pm
The journey time is around 25 minutes and there are no stops between the airport and the central bus station. Tickets cost between 5 and 10€
→ See all the shuttle timetables
Trouver un vol

By public transport.
No matter where you are in the city, you'll have the choice between theBus, Tramway or Metro to easily get to the studio.
Located in the heart of Marseille, all lines pass near the studio.
Voir le plan et les horaires

Tips.
Here are a few tips that will make your journey to Karbone studio even easier.